With Brett Gilliland, Founder and Chief Executive Officer, Visionary Wealth Advisors
The theme of "incongruence" weaves through many of the stories shared by advisors who've changed firms or models.
Because it becomes difficult – if not impossible – to serve clients and grow your business when there's a misalignment between your goals and those of your firm.
As a Managing Director at Northwestern Mutual, Brett Gilliland found that the lack of alignment could not be more apparent—nor more limiting.
In his role, he wore multiple hats—serving as a financial advisor, plus recruiter with the responsibility for the training and development of novice advisors. But as Brett became more successful, he also became less satisfied—and the feeling of being at odds with the goals of Northwestern became more apparent.
He wanted greater agency over how he served clients, to be able to freely market and provide unbiased, unconflicted advice without feeling pigeonholed into selling insurance.
And ultimately, as Brett put it, he wanted to "play in a different sandbox."
So after 13 years with Northwestern, Brett and his partner Tim Hammett decided it was time to build something that was more aligned with his vision. And in March of 2014, RIA firm Visionary Wealth Advisors was born with $300mm in assets.
But it's Brett's "Jerry Maguire" exit story that's really compelling—and a true testament to the respect and trust he developed with his team at Northwestern.
Today, Visionary manages over $1.8B in assets, and has 30 advisors on the team.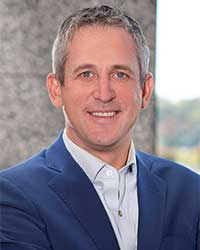 In this episode, Brett talks with Louis Diamond, sharing details about the motivation behind his move and more, including:
The unique perspective he had as a Managing Director at Northwestern—and how that framed his decision to leave the firm.
The ability to fully realize his vision as an independent business owner—and why he felt limited at Northwestern.
The concept of "interdependence"—and how that serves as the basis of his firm's value proposition.
The drivers behind their incredible growth—and how relationships and referrals play a large role in their success.
But it was the threshold question that Brett asked his partner, Tim, prior to making the decision to leave Northwestern that really resonates—and it's a question that Brett suggests all advisors ask themselves: "What keeps you here?"
Listen in as Brett shares a resignation story unlike any other—with key takeaways for employee advisors and business owners alike.
Podcast: Play in new window | Download (Duration: 41:27 — 56.9MB) | Embed
Subscribe: Apple Podcasts | Google Podcasts | Spotify | Amazon Music | Pandora | iHeartRadio | Stitcher | Podchaser | TuneIn | Deezer | Anghami | RSS
Download a transcript of this episode…
Related Resources:
The Top 5 Reasons Why Northwestern Mutual Advisors Are Changing Firms
A growing trend of departures from Northwestern Mutual has left many of the firm's advisors wondering what's driving the momentum—and what their colleagues are finding on the other side. Read->
Why advisors in "growth mode" are sacrificing momentum to change firms or models
It seems to be counter-intuitive for an advisor or team who may be riding the wave of their "best year ever" to change jerseys or break for independence. Yet it's happening in record numbers. Read->
From Insurance Sales to $8B RIA
A Northwestern Mutual Breakaway Story. Listen->
Industry Update: What the Wealth Management Landscape Looks Like Today
The ever-expanding landscape represents a waterfall of possibilities for every advisor—learn the differences between each model. Listen->
Brett Gilliland
Founder & Chief Executive Officer
As one of the founding Visionaries, Brett Gilliland works on creating and executing the vision for the company, which is to provide world-class service to clients and grow to be the most prestigious wealth management firm in the markets we serve. Brett was instrumental in establishing the core values and culture within the company, which creates a positive, energetic environment for our clients, Visionaries and staff.
In addition to his duties as CEO of Visionary Wealth Advisors, Brett is an active member of the St. Louis Sports' Commission and the Board of Directors for Southern Illinois University Edwardsville's School of Pharmacy, and hosts a weekly Circuit of Success podcast, which was rated as one of the top entrepreneur podcasts in 2017. Brett and his wife, Julie, also founded Swing Fore Hope, a charity that funds cancer research and provides financial assistance to cancer patients.
Also available on your favorite podcast app and other media sites