A conversation with James Hughes Head of Investment Advisory Lending Live Oak Bank
Overview
James Hughes of Live Oak Bank discusses debt financing for prospective breakaway advisors looking to de-risk a leap to independence or payoff a note balance, or business owners seeking funds for acquisitions or succession planning.
About this episode…
Whether you're a prospective breakaway advisor looking for liquidity to de-risk a leap to independence or payoff a note balance, or a business owner seeking funds for acquisitions or succession planning, you have an important decision to make around accessing capital.
Because as the wealth management industry landscape evolved, advisors became the beneficiaries of several paths to consider.
Over the course of this series, we discussed "selling" a portion of the business (that is, equity) to any one of the many minority investors or private equity firms in the space, as well as independent broker dealers and supported versions of independence that offer forgivable loans to help fund a transition.
But what about direct financing options?
James Hughes, the SVP and Head of Investment Advisory Lending at Live Oak Bank, joins the show to discuss taking on debt to fund your business's next phase of success.
As the #1 SBA (Small Business Association) lender in the country, the bank started lending to advisory practices back when James joined in 2013—at a time when there were few other options available in the space.
In this episode, James speaks with Louis Diamond about the many reasons advisors opt to work with a bank, including: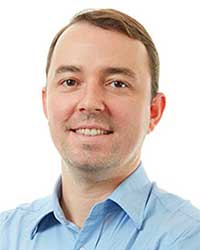 Taking on debt vs. selling equity—and what factors a current or prospective business needs to consider when selecting their financing path.
The unique position that Live Oak holds in the industry—and why large institutions and local banks are less inclined to finance an independent wealth management practice.
Understanding the differences between different use cases—and what you need to know about accessing capital for succession, acquisition, growth, or financing a leap to independence.
Succession planning—and how Live Oak offers an alternative to business owners and next gens alike.
Access to capital for breakaways—and how an advisor might benefit by funding a transition with debt vs. equity.
And much more.
Taking on debt vs. selling equity is a business decision not to be taken lightly, making this episode an important one for both prospective and current business owners alike.
James Hughes
Head of Investment Advisory Lending
James Hughes serves as the Head of Investment Advisory Lending at Live Oak Bank. In his role, James leads the sales team and oversees the lending process from the initial call to servicing of the loan. Since joining Live Oak Bank in 2013, he has helped hundreds of businesses achieve their goals through financing. James has served in several roles at Live Oak, including as a Sales Trader, Relationship Manager, Underwriter and Loan Officer. Prior to joining the bank, James worked at one of the leading investment banks in the world. There he managed a group of derivative trading assistants and several client service teams. Through this unique experience James has gained an understanding of the challenges that business owners face. James is dedicated to assisting small business owners in the Investment Advisory industry attain success and continue to thrive with Live Oak Bank's products and services.
James has a Bachelor of Arts in Economics from Bucknell University.
Also available on your favorite podcast app and other media sites